The Power of the Truth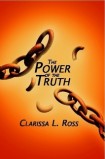 It came as no surprise to Caroline that her estranged husband was angry. In her mind he had every right to be. But when everything she believed about the past is suddenly challenged, can she learn to accept his forgiveness?
When Johnathan is forced to face his wife he takes a leap of faith never dreaming where it could lead. In the midst of the journey he cannot help but wonder if they can ever really be free from the painful past.
As they unravel the web of assumptions and lies, Johnathan and Caroline discover they have the chance for a future. But the mystery of the past threatens to steal, kill and destroy. Can they withstand the present dangers long enough to see…The Power of the Truth?
You can purchase your copy from Amazon by clicking HERE
Or if you prefer a Kindle version is available HERE